"Linpure" cigarette disposal bin provide a safe and clean way of collecting unsightly cigarette ends.
Ideally situated on a wall outside the no smoking office or building
Exterior wall mounted cigarette disposal bin
Wall mounted cigarette ash bins ideal for wall mounting outside entrances to buildings where a no smoking policy is in operation.
Supplied with wall fixing kit and decal attached, with this wording "Please extinguish your cigarettes here this is a no smoking building"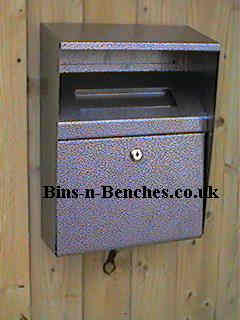 £49.99 each + UK Mainland delivery & vat = TOTAL £69.99
order your "Linpure" Wall mounted cigarette disposal bin now
Dimensions w 280mm x d 140mm x h 390mm
Colour textured silver, Supplied with inner metal liner, fixing screws and plugs, Includes Two keys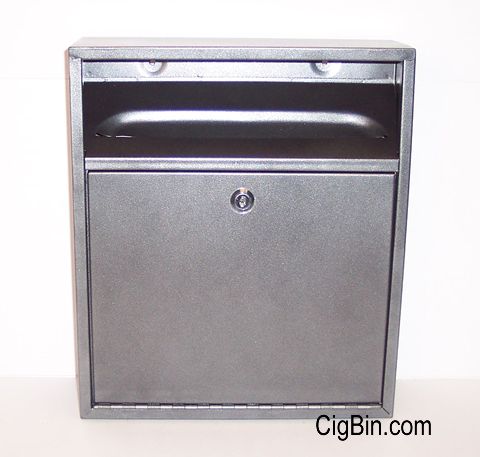 Powder coated steel cigarette bin
Excellent price £49.99 each plus quick UK mainland delivery and vat TOTAL £64.99
nobody can better our prices
Complete with lock, 2 keys, no smoking decal sticker, wall fixing screws and plastic wall plugs.
Extra large capacity integral ash box which is easy & quick to empty either into a bin or our specifically designed ash collector.
Dimensions w 320mm x h 375mm x d 100mm
Large stubber plate and wide slot, collects the ash and cigarette ends and is not designed to accept rubbish
Four CigBin wall mounted cigarette bins SAVE £10
Eight CigBin wall mounted cigarette bins SAVE £40 with free UK mainland delivery

Brushed stainless steel finish cigarette bin
Excellent price £89.99 each plus quick UK mailand delivery and vat
nobody can better our prices
Complete with lock, 2 keys, no smoking decal sticker, wall fixing screws and plastic wall plugs.
Extra large capacity integral ash box which is easy & quick to empty either into a bin or our specifically designed ash collector.
Dimensions w 320mm x h 375mm x d 100mm
Large stubber plate and wide slot, collects the ash and cigarette ends and is not designed to accept rubbish
BUY FOUR STAINLESS STEEL CIGARETTE BINS AND SAVE £'s
BUY EIGHT Stainless Steel CIGARETTE BINS GET FREE DELIVERY & SAVE £'s